Vintage Collection of Cuties CD Volume 2

Price: US 19.99
The images in this collection are from many different scrapbooks which date from 1924 to 1966. This CD is different from all the others because all the sentiments and verses have been removed. The images are completely ready for whatever kind of project you'd like to use them for. There may be several different renditions of an image. For example, the first image may have the original background from the card and the second image will have a white background.
This CD is totally devoted to cutie images. It contains 4 folders - Animals (112 images), Kids (118 images), Fun Stuff (127 images) and Adults (48 images).


These images are NOT from Internet surfing and using a copy and paste. Each image came directly from an individual card which was individually scanned. Sometimes the image may require some cleanup. This is kept to a minimal level in order to keep the integrity of the original card and maintain the vintage feel of the image.
The scanned images are high resolution, scanned and saved at 600 dpi in the .jpg format. This provides a high quality image suitable for expansion or reduction in order to satisfy every image need. The resolution on the images displayed here is drastically reduced in order to provide faster loads for your viewing.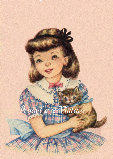 Watermarks are for display purposes only. They are not on the actual images.
To see a larger sample of the Vintage Collection of Cuties images that are included on this CD please click here Vintage Collection of Cuties 2 Images
To see a video showing most of the images contained on the Vintage Collection of Cuties Vol 2 CD please Click Here to View the Video